Announcing our latest PAA Journal
PAA Vol 22, no 2 (December 2022) special issue 'Grounded in Place: Dialogues between First Nation Artists from Australia, Taiwan, and Aotearoa'
We are pleased to announce that Pacific Arts, vol. 22, no. 2 (December 2022) has been released as an open access, peer reviewed, online journal published through the University of California's eScholarship platform. This special issue focuses on the theme "
Grounded in Place: Dialogues between First Nation Artists from Australia, Taiwan, and Aotearoa
", guest edited by Sophie McIntyre, Fang Chun-wei, and Zara Stanhope.
The collection of essays and creative work featured were presented at a three-day symposium held in October 2021 that explored several themes: History and Sovereignty, Land and Community, Site and Materials, and Place and Space.
Contributors include: Patrick Flores, Vernon Ah Kee, Chang En-Man, Kaihaukai Art Collective, Judy Watson, Akac Orat, Areta Wilkinson on behalf of Ngāi Tahu Contemporary Visual Arts, Mandy Quadrio, Yuma Taru, Leah King-Smith, Anchi Lin (Ciwas Tahos), Ngāhuia Harrison, and Megan Tamati-Quennell.
You can view or download the issue
here
.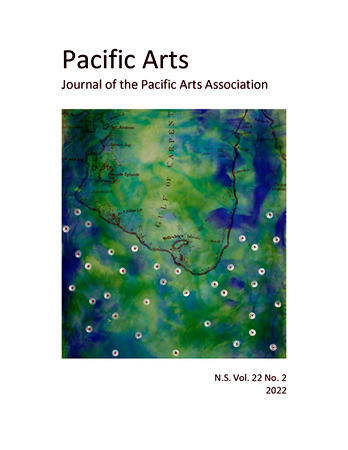 Image credit:
Judy Watson, a picnic with the natives–the gulf(detail), 2015. Pigment and acrylic on canvas, 204 x 180 cm.
Collection Art Gallery of New South Wales. Photograph by Carl Warner. Courtesy of the artist and Milani Gallery, Brisbane